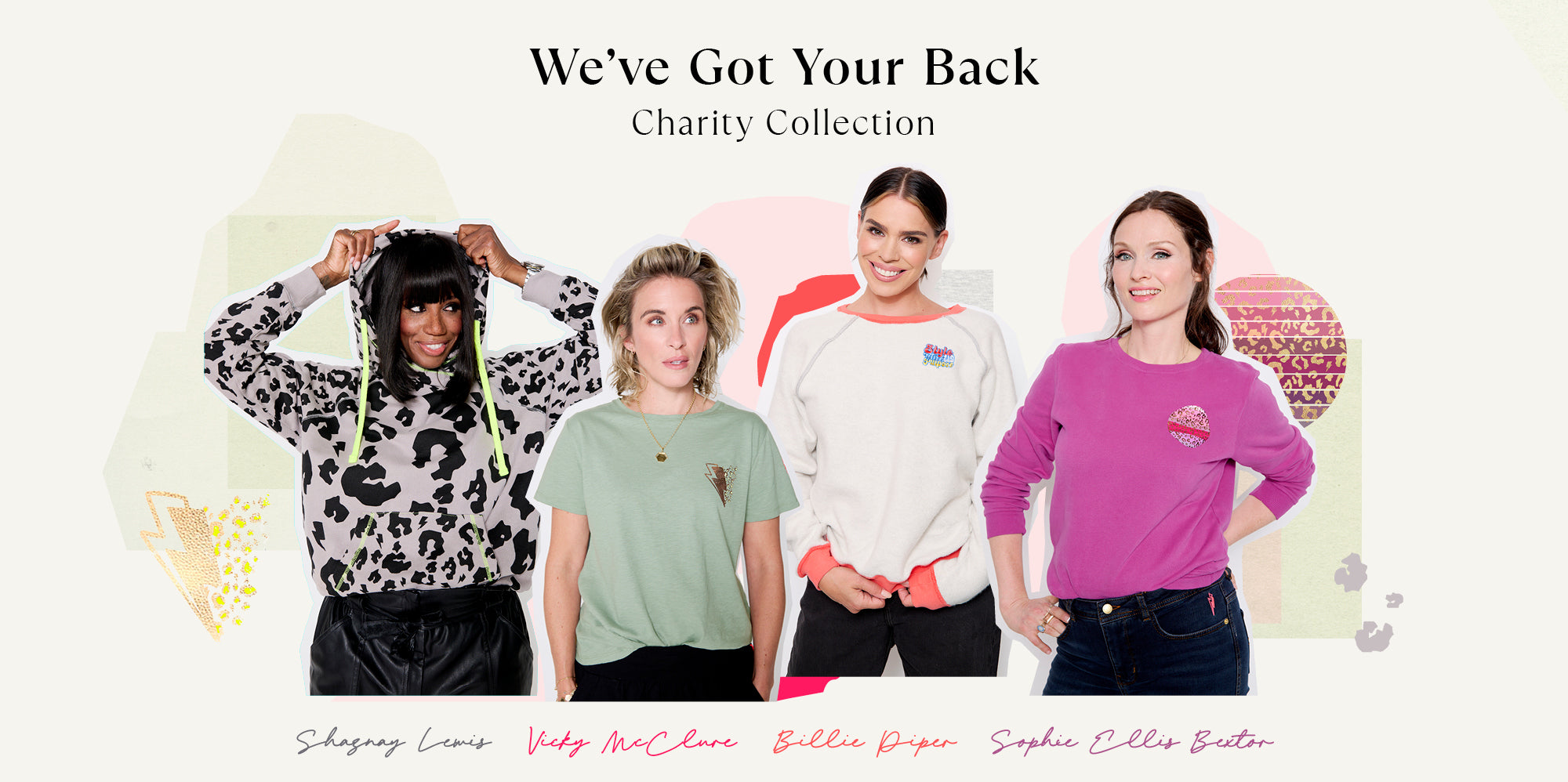 Each of these inspirational women have designed an item of loungewear with profits from the collection going to their chosen charities Borne, Our Dementia Choir, Refuge and WONDER Foundation. Find out more about their inspiration and the charities which are close to their hearts...
Sophie was drawn to sunsets for the inspiration for her sweatshirt design. Including a gold foil leopard and lightning bolt print, reminiscent of a disco ball. Profits from Sophie's sweatshirt will go directly to the charity 'Borne' who fund research to advance their knowledge of pregnancy and childbirth with a mission to help end premature birth.  
From Sophie:
"I have known Jo for such a long time, and I love Scamp & Dude and everything it stands for, so I'm absolutely delighted to be collaborating on this campaign. It's a huge privilege to design something that not only do you get to wear, but it benefits a charity you really care about. After experiencing two premature births myself, the charity is very close to my heart, so I know how much a difference the donations from the sweatshirts will make".  
Shop Now
Vicky's design is a relaxed khaki t-shirt, with our snow leopard and lightning bolt graphic. The graphic is inspired by the logo of Our Dementia Choir (Vicky's chosen charity). Evidence suggests that music can help improve moods, behaviour, and wellbeing for those who are living with Dementia, which is why Vicky set up the charity in 2019.
From Vicky:
"It was an easy 'Yes' when Jo asked if I wanted to be part of this campaign as I really admire what Jo has done with the Scamp & Dude brand. I enjoyed designing the t-shirt alongside Jo and love that the graphic has taken inspiration from Our Dementia Choir logo; it all ties in perfectly. I know that Our Dementia Choir will hugely benefit from the donations from this collection and look forward to seeing people wearing the t-shirt out and about". 
Shop now
Billie wanted her sweatshirt to be 'inside out' so the soft brushed fleece is on the outside with a 70's inspired patch on the chest. Profits from the sale of this sweatshirt go to Refuge, a charity that supports thousands of women and children daily who are experiencing domestic violence.  
From Billie:
''I am a huge fan of Scamp & Dude, and all the charitable work Jo has done since setting up the brand 6 years ago. It was an honour when she asked me to be part of the campaign. Jo listened to what I wanted in my design, and we worked together in creating this beautiful sweatshirt that I know I will be wearing all season; it's SO soft. What's even better is that profits from the collection will be going to some incredible charities. I've chosen Refuge, as it's a charity I have been closely working with for the last couple of years to help raise money to support, women and their children. It's a brilliant charity that does the most phenomenal and vital work, supporting survivors of domestic abuse, so I urge you to get your hands on one and support too".
Refuge's National Domestic Abuse Helpline, 0808 2000 247, is available 24 hours a day 7 days a week for free, confidential specialist support.
shop now
Shaznay's hoodie was designed to support 'WONDER Foundation', a charity with a mission to empower women, girls and their communities through access to quality education so that they can transform their lives and exit poverty for good.  
From Shaznay:
"It was such an honour to have been asked to be part of the 'We've Got Your Back' campaign as I love what Scamp & Dude stands for as a brand. It's great to be involved in a campaign that not only focuses on style but giving back. It has been really fun working on my design with Jo and seeing it come to life, especially playing around with colours and different print scales. I'm looking forward to wearing the hoodie, especially as I know it's donating funds to 'WONDER Foundation'. They are an incredible charity that really do make a difference to so many women and girls out there". 
shop now
Message from our founder, Jo
"Seeing this campaign come to life has been such an amazing experience for me, I have absolutely loved working with Sophie, Billie, Shaznay and Vicky on all their designs. Giving back is a key part to Scamp & Dude's ethos, so I'm thrilled that we are donating profits from the 'We've Got Your Back' collection to these four fantastic charities.   
After the huge success of our 'Swag Bags with Purpose' in 2019, I knew I wanted to develop this concept and create a similar campaign but include clothing; it was the most natural transition. Like 'Swag Bags with Purpose', it was important to work with collaborators who have all been part of the Scamp & Dude journey with me so that this collection felt authentic. I really admire these brilliant women. What Billie, Shaznay, Sophie and Vicky do and what they have each achieved over the years, have inspired me in many ways. They also each have a unique style which I knew would translate into their Scamp & Dude designs".